With the imminent release of HBO documentary Leaving Neverland, Michael Jackson's legacy appears on the cusp of a dramatic and humiliating fall from grace. The documentary by Bafta winning director Dan Reed narrates the testimonies of two men, now in their 30s, who allege Jackson sexually abused them as children at his Neverland ranch. The film has received a predictably controversial reaction, his estate calling it "an outrageous and pathetic attempt to exploit and cash in on Michael Jackson", while fans protested outside its Utah premier. But the fact is that nobody is really surprised- it always seemed a matter of when rather than if these testimonies would emerge. Allegations of child sexual abuse have dogged Jackson since 1993, and he was acquitted in a high-profile trial in 2005. But as the evidence and testimonies mount up, the stringent denial from his estate becomes harder to swallow. The release of Leaving Neverland seems a watershed moment, and it raises a fascinatingly complicated, and increasingly familiar, set of dilemmas. How will we face the realisation that one of our true cultural icons is morally reprehensible?
Jackson is far from alone in suffering damning allegations of abuse. Recent years, and the long-overdue arrival of #metoo, have seen the public disgracing of high-profile figures including Harvey Weinstein, Kevin Spacey and Bill Cosby. The abusive actions of powerful men are at last receiving appropriate scrutiny and repercussions. But when the work of these individuals occupies such a prominent place in our popular culture, then the scrutiny and repercussions fall on us all. We are forced to confront our worship of monsters, and question the morality of continuing to support their (often brilliant) work. But while Cosby, Spacey, and Weinstein were influential and admired public figures, none had the level of fame and adoration of Michael Jackson. The self-proclaimed King of Pop has an indelible and almost incomparable status in popular culture and musical heritage. It makes his apparently imminent downfall yet more fascinating, for it is inescapably entwined with our lives. His music has provided the soundtrack to countless childhoods, while his soulful voice and inimitable moves light up dancefloors the world over. As recently as 2018, the National Portrait Gallery in London hosted an exhibition[4] of Jackson-themed art in London, evidence of both his enduring legend, and the continued public appetite for it. This legacy explains why some find the revelations so hard to stomach. Are our childhood memories now tainted by association with an alleged serial child abuser? Wade Robson, a childhood super-fan and one of Jackson's accusers, admits, "I understand that it's really hard for them to believe because, in a way, not that long ago, I was in the same position they were in. Even though it happened to me, I still couldn't believe it." But, like Wade, we must all confront the allegations and their consequences sooner or later.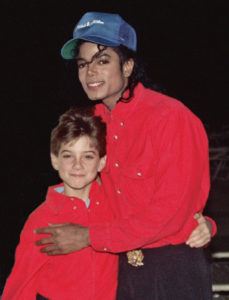 And if, as seems likely, Michael Jackson is found guilty of the allegations, we are faced with a set of dilemmas ourselves. We can't simply wipe his music from our collective memory- it is inexorably bound up with our lives. To stop buying or listening to his music seems a simple solution, but what about the countless films and TV shows which use it as soundtrack? Or the innumerable cover versions by talented, reputable artists? Or the generation of young (especially black) artists who were inspired to sing, dance, and follow their dreams? His impact on our popular culture makes his imminent disgracing unimaginably complex. Flawed or not, we cannot deny that Jackson and his music are an integral part of our recent cultural heritage. Reaction to the allegations will set the agenda for our handling of the inconvenient truths of our cultural history, revealing how we deal with the legacy of our disgraced heroes; what we do with their art; and whether we can separate it from the individual. It is evident that there are more questions than answers in this dilemma.
What will the future hold for Jackson?
We can only look to the past when speculating on the future of Jackson's legacy. Perhaps the most comparable example is that of Gary Glitter, the 80s pop icon and jailed paedophile. In 2015 the Guardian writer Alexis Petridis interviewed diehard Glitter fans about their relationship with the star and his music. A few insistently denied the abuse charges, but most described their evolving ability to separate the artist from his art. But self-confessed Glitter fans are few in number, and decreasing as his music faces an unofficial ban on radio and TV. As allegations about Jackson unfold, it is reasonable to believe that calls for a similar silencing will follow. But while broadcasting of his music might diminish, you cannot erase Jackson or his legacy from peoples' consciousness. He was simply too influential. In light of the allegations, the public's relationship with Jackson's music will be increasingly personal. Some fans might succeed in appreciating its pure musical value, while others will be unable to separate the art from his abuse. In fact art and artist are inseparable, and so it should be. To ignore the individual is to incompletely understand the art. Jackson did terrible things, but also indelibly shaped the future of our popular culture. To erase him from our cultural heritage, or to deny his place in it is impossible. His incredible popularity symbolises a stage of our cultural progression, and it should be possible to reflect on that without venerating the individual, even while condemning him. Only time will tell whether we judge Jackson by usual moral standards, but however the case unfolds, it will reveal a blueprint for our handling of the disturbing secrets of our cultural heritage. Perhaps we are about to witness the dramatic downfall of a true icon, though Jackson's enduring popularity suggests his complete decline still a little way off. The full impact of the revelations on Jackson's legacy remains to be seen, but the case appears at the very least a lesson in the perils of hero worship. Perhaps the most productive outcome will be that his music stands as a pervasive (if scarcely needed) reminder that bad people can do good things.
Cover photo credit: By Zoran Veselinovic – https://www.flickr.com/photos/56492970@N07/5762802777/in/photostream/, CC BY-SA 2.0, https://commons.wikimedia.org/w/index.php?curid=15326191