In the summer of 2018, I went on a three-day holiday to the city of Bruges in Belgium with one of my best friends. To visit Bruges was a real no brainer for me. I just finished my bachelor degree in History and accepted into the Master program Heritage and Memory Studies at the University of Amsterdam. The choice was less obvious for my friend, who studies medicine and enjoys hiking in the mountains and nature. However, she was sweet enough to comply with my wishes and happily tagged along while I wanted to see every museum, church, building and taste all the traditional food and beers (for historical and heritage research only of course).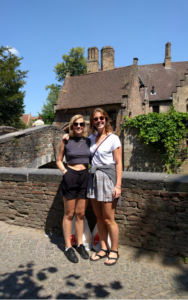 Since 2000, UNESCO acknowledged the old historical city centre of Bruges as World Heritage, for three reasons. Firstly, Bruges is 'a testimony, over a long period of a considerable exchange of influences on the development of architecture, particularly in brick gothic.' Secondly, it illustrates commercial and cultural stages in medieval Europe. Finally, the town was the birthplace of the Flemish paintings.[1] This last point cannot be missed; in the Groeningemuseum, the beautiful paintings of the famous medieval Flemish painter Jan van Eyck can be admired. Secondly, there are restaurants named after him where you can eat and have drinks. Besides this, a gigantic statue of him on the market square that's called after the painter. Lastly, you can buy different souvenirs of the famous painter in gift shops.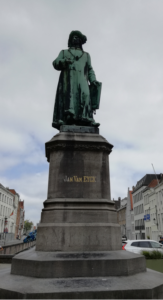 Jan van Eyck statue on the Jan van Eyck square in Bruges. Picture by Emma Anker.
I remembered from one of my bachelor courses that Jan van Eyck used to live in Bruges. Therefore, it would be silly and frankly bad marketing not to use the image of Jan van Eyck. However, all of this led me to the question: Where is the Jan van Eyck house? During a free walking tour (once a student, always a student), I asked our tour guide where I could find the mysterious house of Van Eyck. His answer was 'The house of Jan van Eyck? I haven't been to that place in ages.' I was shocked by his response apparently nobody visits that place, not even the locals. Obviously, this short trip turned into a full-blown investigation. I looked for information online and searched for the address myself. In the end, we visited the place ourselves; still my friend kindly tagged along and let me have my crazy obsession over this painter's house. Once we got there, I found out why nobody visits the place… it is a construction site. Nothing indicates that the famous painter lived here. If beforehand I hadn't done all the research, I wouldn't have known that the famous medieval painter, THE Jan van Eyck, lived there. By underrepresenting the building and its rich history, the house doesn't exist.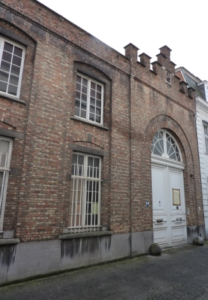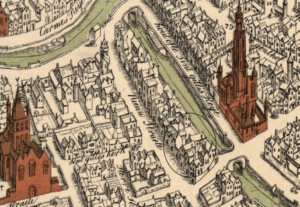 Gouden-Hanstraat Nr. 6, Bruges. Picture credits Erfgoed forum Brugge http://www.erfgoedforumbrugge.be/Gouden-Handstraat%20nr%206%20site%20voormalig%20huis%20Jan%20Van%20Eyck.html
Now I was officially stunned. I found this so fascinating that I in the end wrote a paper on the subject during my first course of my master program Heritage and Theory.[2] Now looking back, I reflect on myself and ask 'Why was I so obsessed with this subject? Why was it fascinating to me in the first place?' I mean the place doesn't officially exist. Reflecting on myself this has probably everything to do with my background. I come from a middle class white family. When I was younger, my parents took me to museums, which didn't appreciate as much as I should have. Now, I'm eternally indebted to them, because now I cannot imagine my life without art.
'The earth without art is just, eh.'
Quote by Banksy
My dad studied history so my own interested for the past is not that surprising. Although, my interested for the medieval period and renaissance is something my dad and I share a little less. He is more of an eighteenth century kind of person. Therefore, my interest in the past and heritage is easy to explain. However, it does not explain my obsession over Jan van Eyck, a painter studied by so many. Why wasn't I interested in a female painter? For example Adélaïde Labille-Guiard, whose paintings are in the same museum as Van Eyck?[3]
Perhaps because he is a part of the Dutch history of art canon.[4] I am sure that everybody has heard of him in the Netherlands. Maybe it is because I see mostly white male or female painters in museums and this catches my eye, since I am familiar with it. Possibly, because only recently studies give more attention to minorities. Maybe because Bruges makes it impossible not to think about Jan van Eyck because his image is utilized so often. Many influences that create the way you look at things or the way you are not looking at them. These are all valid, as long as you are aware of your own position. This way you notice more, you think about subjects you normally would have given any time of day. Being aware of your own position and your own background is something that is very important in Heritage and Memory Studies. In my opinion, other disciplines should address it more as well. Interdisciplinary can help with this, because it confronts you with other ideas and theories, and pushes you to think outside of your own disciplinary bubble. To do this one must know their own background, position, and acknowledge these.
References:
[1]https://www.brugge.be/managementplan-samenvatting-engels
[2] If you are just as stunned as I was at the time, and want to know more about this non-existent Jan van Eyck house you can read my paper here.
[3] To see her work in the Groeningemuseum: https://zoeken.erfgoedbrugge.be/detail.php?nav_id=0-1&id=942563118&index=0&cmvolgnummer=
[4] https://www.kb.nl/sites/default/files/docs/canonschilderkunst.pdf
Picture credit:
The House of Jan van Eyck and the map:
http://www.erfgoedforumbrugge.be/Gouden-Handstraat%20nr%206%20site%20voormalig%20huis%20Jan%20Van%20Eyck.html
Others by Emma Anker